Minneapolis, Minnesota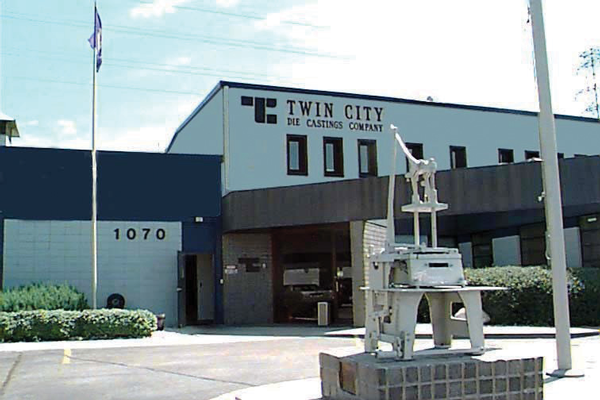 Twin City Die Castings Co.
Corporate Headquarters
1070 SE 33rd Ave
Minneapolis, MN 55414
Phone: 651-645-3611
Fax: 651-645-0724
The Minneapolis facility stands in the location where TCDC was founded in 1919, and is the corporate headquarters. The location has endured multiple expansions to its current 74,000 sq feet. It is home to aluminum die casting and secondary operations, including CNC machining, finishing and assembly. While the long history of this location is noteworthy, the most impressive aspect of this plant is the modern manufacturing techniques employed.
In the cast department, you may observe robots loading inserts into casting dies, and processes so capable that 18 cavity cast and trim dies run fully automatic and unattended. Eight high-pressure die cast machines range in size from 350 to 1000 tons. These Buhler, HPM and Toyo machines are automated, and supported with peripheral equipment from ABB and Reis.
The machining department has dozens of machining centers from Brothers, Fanuc, Mori Seiki, Okuma, and Matsuura. Automation has also found a place in the machining department, with robots loading horizontal and vertical machining centers, as well as, lathes. A Zolar Venturi optical tool presetter aligns cutting tools to pin point accuracy.
The quality department employs a Zeiss Prismo CMM, spectrometer, and dedicated electronic gauging with SPC capabilities.
Product Application Images