QMS Policy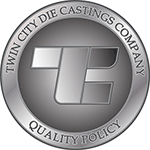 Twin City Die Castings Company's Mission dedicates our daily efforts to being a global die casting leader and the partner of choice for the most demanding cast applications.
To achieve this, we will:
* Maintain and follow a process-based quality system that fully embraces the unique requirements of the markets we serve,
* Grow our business and reputation by dedicating and Harmonizing ® those processes to achieve Customer Satisfaction by understanding their needs and then providing only products and services that meet them. This ultimately means delivering compliant parts, created by capable processes, on time,
* Maintain superior profitability by continually improving those processes by fully embracing the Lean Manufacturing philosophy and through Top Management's commitment to providing our company and its employees with technology, training, equipment and encouragement, and
* Provide a safe, environmentally friendly and rewarding workplace where our employees are aware of and participate in achieving our goals and fulfilling this quality policy.
IATF 16949:2016 Certification
TCDC has an established Quality Management System, (QMS) and continually improves the effectiveness of the QMS which is managed in accordance with the IATF 16949:2016 Standard.