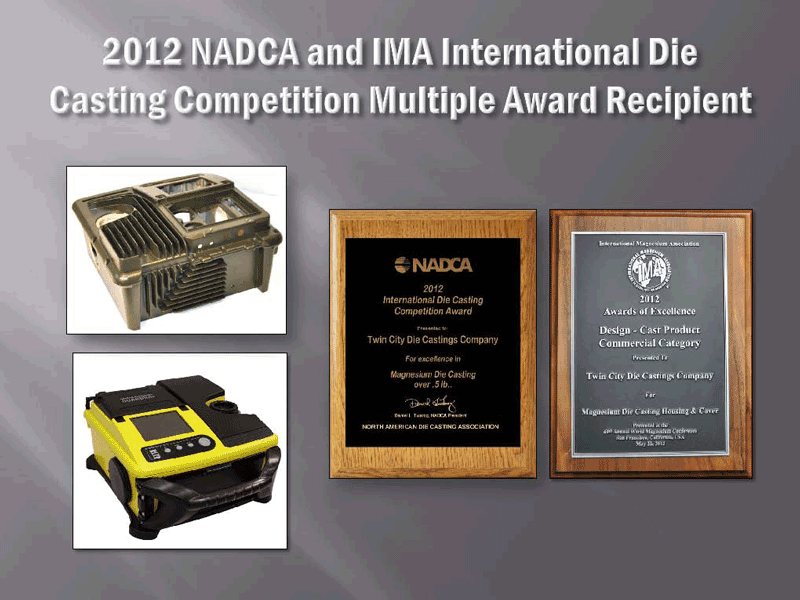 Award Details
2012 NADCA Die Casting Design Competition - Magnesium Die Casting over 0.5 lbs.
Alloy: AZ91
Industry: Homeland Security/Defense
The Challenge
Main Enclosure Casting: The customer desired that internal pins be as cast, rather than a separate piece.
Using an internal lift, TCDC was able to cast internal heat sink pins as part of the casting. The alternate method was to cast a separate piece and fasten it to the casting - which would have added cost and would not have had as good of heat sink properties. The large center opening allowed both a lift and a center gated casting to aid fill on fins and pins. Minimum draft on all features help to keep the weight under design limits.
• Cast a one piece housing with external ribs as heat sinks.
• Center gating allows optimal fill.
• Minimal draft on ribs (1 deg / side), and thin wall design reduces weight.
Alloy: AZ91D
Dimensions: 14.9" x 14.6" x 5" H (396 mm x 370.8 mm x 126.5 mm)
Weight: 3.05 lbs (1.3 kg)
Finish: Xylan Coated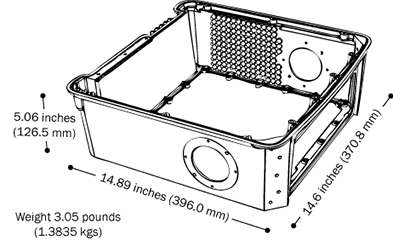 Top Plate Casting: Deep internal bosses on the cover with Minimum draft made casting almost equal in surface area between the inside and out. The solution was to apply a double ejector system to both the Ejector half and cover half cavities.
Alloy: AZ91D
Dimensions: 14.6" x 14.8" x 2.8" H (370.8 mm x 376 mm x 71.4 mm )
Weight: 2.92 lbs (1.33 kg)
Finish: Xylan Coated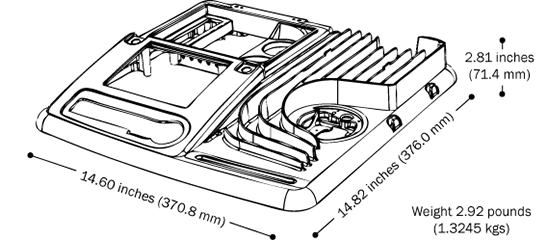 Design Properties: The Top Plate required additional ribs to help meet heat sink properties needed. Both the Main Enclosure and Top Plate have limited draft of 1 degree per side on fins as well as thin wall design to minimize weight.
Product Application Images