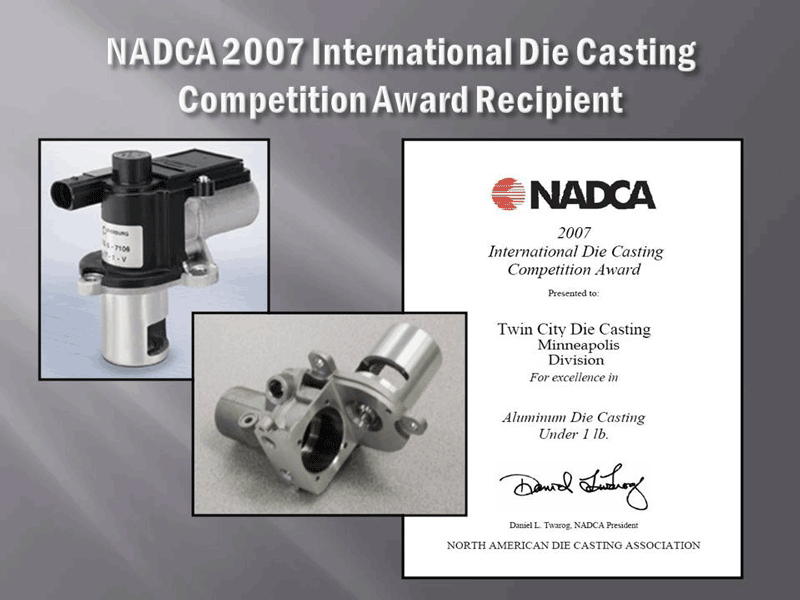 Award Details
EGR Housing
Industry: Automotive
This part is a one-piece valve housing that accomplishes the following design solutions. Positioning and housing the valve actuator, maintains alignment of the valve guide, fixing the valve seats and providing a sealing surface for the valve disks. This housing incorporates many design critical features that are typically done with multiple die and sand cast components.
Tooling: Cast in a two cavity die cast die with two stainless steel inserts per cavity and six core pulls (both cover and ejector half pulls) with two of the pulls sequenced to pass through each other. Process is run in an automated die cast cell with robot casting, robot loading of the inserts, Robot unloading, quenching and trimming. All scrap is handled by conveyors out of the cell and parts are conveyor to the operator.
This part allows the engine designer to use a dual poppet valve rather than two slightly smaller valves. The stainless steel insert molding allows considerable weight reduction as compared to a stainless steel cast housing with minimal reduction in valve performance or long-term durability.
Weight: 0.98 lbs.
Alloy: Aluminum A360