Medical Electronics Enclosure and Power Supply Shield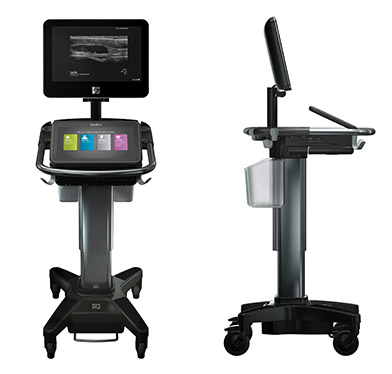 Project Overview
The X-Porte is the World's First Ultrasound Kiosk designed by Fujifilm SonoSite, Inc.
Die cast magnesium was selected as solution for the enclosure.
TCDC provided design feedback using flow simulation software, and based on experience suggested a thin-wall design at 0.04-inches with considerable critical areas to gate and improve metal flow and size of the casting to making the X-Porte a success.
The Challenge
DESIGN REQUIREMENTS:
* Slender/Portable/Durable
* Light-weight enclosure
* Protect internal electronic components, while offering appropriate thermal properties, EMI shielding and stability.
Approx. 15" x 13" (inches)
The Solution
Gating: Center Gate / 3-Plate Die
Several different simulations were done with multiple gate changes until the best fill conditions were achieved, and a ribbed pattern was added to improve both flow and fill.
Three castings:
1) Power Supply Cover Shield
10.0" x 9.0" x 1.4"
(254 x 228.6 x 35.6) mm
Nominal wall thickness 0.04" (1 mm)
Weight: 0.35 lb (0.16 kg)
Edge gated
Buhler 600 Ton Evolution cast machine
2) Mid Frame
15.25" x 13.0 " x 2.0"
(387 x 330.2 x 50.8) mm
Nominal wall thickness 0.04" (1 mm)
Weight: 1.25 lb. (0.57 kg)
Center gated
Buhler 950 Ton Evolution cast machine
3) Bottom Enclosure
15.25" x 13.0" x 1.3"
(387 x 330.2 x 33) mm
Nominal wall thickness 0.04" (1 mm)
Weight: 1.0 lb. (0.45 kg)
Center gated
Buhler 950 Ton Evolution cast machine
Bosses drilled and tapped, installation of dowel pin to aid in final assembly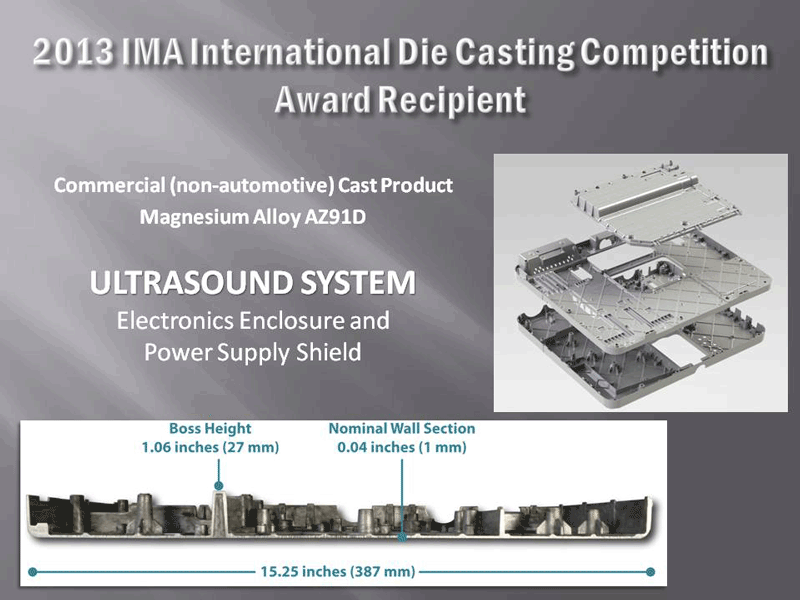 Product Application Images