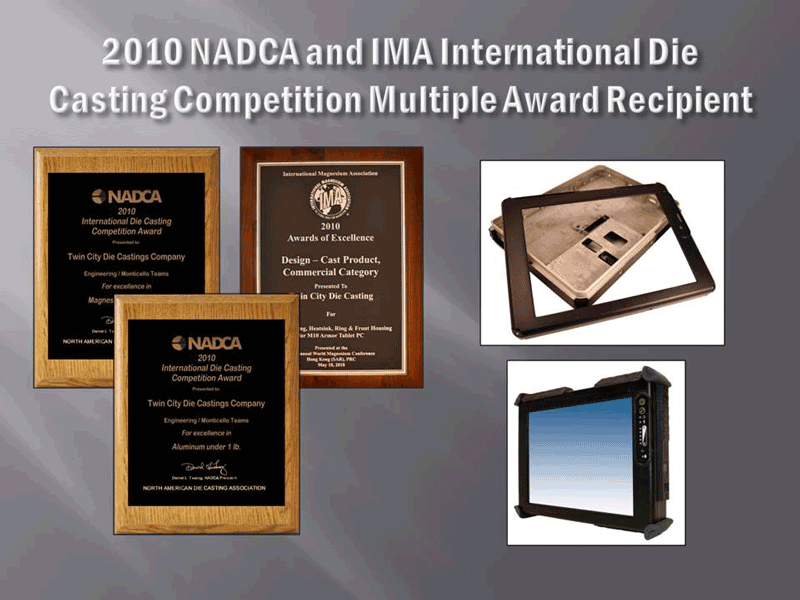 Award Details
2010 NADCA International Die Casting Competition
Magnesium Die Casting under 0.5 lbs.
Aluminum Die Casting under 1.0 lbs.
2010 International Magnesium Association Awards Program
Magnesium Casting over 1.0 lbs.
Material: Magnesium w/ Cast-In Al Heat Sink ALLOY AM60 (A384)
Weight of Back: (Mg) 1.030 lbs.
Weight of Front (Al) 0.325 lbs.
End Market: Defense
Challenge
Convert an Aluminum hog-out into a die cast Magnesium Housing, while maintaining the initial design integrity and component specifications, specifically addressing heat transfer.
Three Step Solution:
Step 1. Construct three separate Cast Tools: Heat Sink, Back Housing and Housing Ring
Step 2. Insert Aluminum Heat-Sink into Back Housing cast tool to combine parts.
Purpose Develop a light weight Magnesium housing with heat dissipation capability of the Aluminum hog-out housing in the necessary areas.
Cast Process TCDC and it's customer determined that a cast-in Aluminum Heat-Sink in a Magnesium Housing would achieve the weight and heat dissipation requirements.
Using simulation software and experience, TCDC added additional runners over the top of the Aluminum insert to enhance the metal flow across the top of the cast-in Heat-Sink (shortest distance between two points).
The Back Housing cast tool created a hard seal on the Aluminum Heat-Sink allowing for proper shut -off during the casting cycle, and eliminating potential flashing/leaking over the insert.
The Aluminum Heat-Sink was preheated, causing it to expand, and allowing it to shrink with the Magnesium housing during the solidification process.
To obtain a sufficient mechanical bond between the Housing and Heat-Sink, a "V-groove" was incorporatd on the heat-sink, allowing the Magnesium to encapsulate the edge of the Heat-Sink and hold it in place.
Step 3. Glue Housing Ring into Back Housing (w/Heatsink).
Purpose To increase the amount of component space inside of the Housing without increasing the external envelope size as specified by the customer. To achieve this, TCDC and DRS developed an additional casting (Housing Ring) which is cast/trimmed separately and bonded to the Housing with a two-part epoxy adhesive (glue).
Adhesive Process The geometry of the bonded joint was designed to capture the outside periphery of the Ring to the inside wall of the Housing to ensure a sufficient bonding surface and positive location. The bond must be strong enough to handle the machining operation (o-ring groove) and testing (vibration, drop test, etc.). Applied by robot to ensure proper placement and bead size, the adhesive contains 0.010" glass beads that provide gap control during insertion.
Product Application Images