Monticello, Minnesota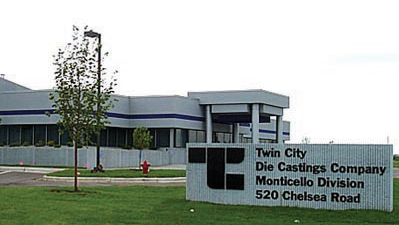 Twin City Die Castings Co.
Monticello Division
520 Chelsea Rd.
Monticello, MN 55362
Phone: 763-271-5060
Fax: 763-271-5070
In 2000, we opened up our newest plant in Monticello, Minnesota to serve the growing need for magnesium die castings. This state-of-the art plant is 45,000 sq. ft. and equipped with the most technologically advanced equipment in the world, is located just 40 miles from TCDC corporate headquarters. The Monticello location has made a name for itself in cosmetic parts with class "A" finishes and thin wall die castings.
Built in 2000, the Monticello plant is one of the most modern magnesium die casting plants in the world. The Buhler die cast machines and various Mori Seiki and Brothers CNC machining centers produce components for the medical, automotive, hand tool, recreational vehicle, and heavy truck industries. Many of the products produced here require high quality, cosmetic finishes.
Twin City Die Castings Company values quality, and searches the world to find the best technology available to the industry. Inside these walls, Buhler die cast machines from Switzerland, Reis trim presses from Germany, Rauch furnaces from Austria, and Mori Seiki machining centers from Japan help manufacture precision parts for our customers.
Supporting TCDC's dedication to technology, the Monticello plant utilizes automation in many aspects of manufacturing, including ABB robots, which operate within fully automated die casting cells.
Product Application Images