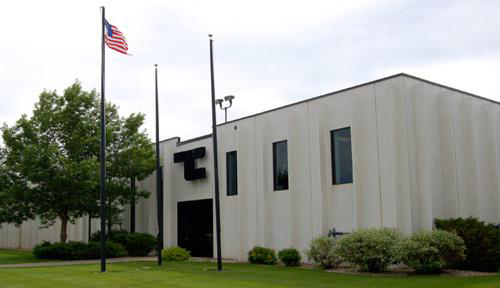 Twin City Die Castings Co.
Watertown Operations
122 Cessna St. NW
Watertown, SD 57201
Phone: 605-886-9448
Fax: 605-886-2489
Located approximately 200 miles west of Minneapolis, our Watertown plant encompasses 65,000 feet of aluminum die casting, machining, and office space. Home to 9 die casting machines, along with vertical machining centers and lathes.
The Watertown plant utilizes automation in both the die casting, and machining processes. You will see extensive use of robots, undertaking tasks from extracting parts cast machines and loading trim presses, to loading and unloading machining centers and performing quality checks. The Watertown location employs an impressive automated machining line including 7 twin spindle Okuma lathes, dedicated drilling and tapping operations, and quality checks including pressure testing and use of vision systems. This state-of-the-art facility currently supplies parts for the automotive, commercial vehicle, computer, medical and HVAC industries.
Product Application Images